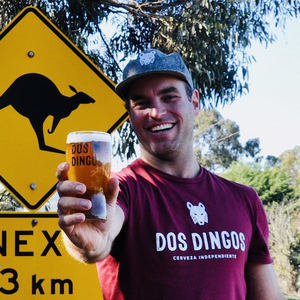 Mati Cavanna
Special guest
Born in Buenos Aires, Argentina, Mati graduated as a Supply Chain Engineer and worked in the electrical industry before moving to Melbourne, Australia.
It was working for Asahi Breweries down under, where his brewing career started. Mati initially joined as a malt & hops strategy manager, and made his way through supply chain and operations projects while getting brewing training within the group's breweries in Australia, Japan and New Zealand. Such is his passion for beer, that while working for Asahi he started home brewing and developing recipes.
After the best part of a decade away, Mati returned to Argentina to open "Dos Dingos Cerveza Independiente", a brewery with a strong focus in Australian hops and styles which started operations early 2018, and quickly became one of Argentinas best known craft breweries. Late 2019, he opened a brewpub and barrel program in Uruguay "De Puerto by Dos Dingos"
Mati also co-hosts Birratecnia, one of the first podcasts in Spanish focused on sharing academic research and best practices for the craft brewing industry.
Mati Cavanna has been a guest on 1 episode.
June 8th, 2020 | 35 mins 45 secs

Biotransformation has become a buzzword in the brewing community, with many brewers even performing dry hopping at certain specific times to hit what is considered to be the "biotransformation sweet spot." Academic literature does not support these claims. With the aid of enzymes developed for the wine industry, two experimental IPA beers were brewed: one with an enzyme preparation aimed at hydrolyzing glycosides and the other with a β-lyase preparation aimed at releasing bound thiols. Triangle tests for each treatment were carried out by a panel of over 25 participants, composed of brewers and judges, and showed that both beers were significantly different from the control, yet preference was overwhelmingly toward the no-enzyme IPA control beer. Furthermore, the descriptive analysis carried out by the same panel showed a clear trend toward both enzyme beers being less tropical/fruity and more herbal and/or citrusy, the exact opposite of the purported benefit of biotransformation.