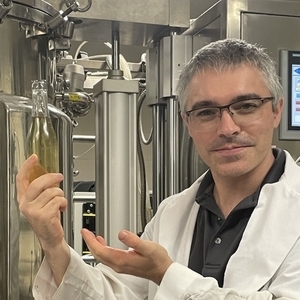 Andrew MacIntosh
Special guest
After working in the manufacturing industry as a departmental engineer Dr. MacIntosh transitioned to academia to complete a masters degree in biological engineering where he optimized the production of a novel antibiotic produced through fermentation. He then took the opportunity to complete a Ph.D. in food science where he studied the effect of fungal contamination on brewing fermentations as well as the fate and transport of CO2.
After his PhD, Dr. Mac then worked for four years as an assistant professor in the Process Engineering Department at Dalhousie University where he was responsible for teaching many chemical engineering and food science courses. To facilitate his extension and outreach assignment, Dr. MacIntosh spearheaded the formation of the Canadian Institute of Fermentation Technology (CIFT). This Institute aims to provide a wide-range of services to the local fermentation industry (including brewing, winemaking, malting, kombucha and distilling companies). Among many successful projects, MacIntosh has worked on novel methods for making sparkling wine, provided R&D assistance with start-ups and established companies, acted as a consultant when necessary, and offered short educational courses on the science behind fermentation and distillation.
In 2017 Dr. MacIntosh transitioned to the Department of Food Science and Human Nutrition at the University of Florida (Gainesville). In his new appointment Dr. Mac has had the opportunity to continue his study of the fundamental principles behind fermentation, while also having the freedom to work directly with the Florida state industries through institute extension programs and grants. He takes great pleasure teaching food engineering and processing courses (where brewing is used as a perfect example of many food engineering principles), and is currently applying his research to the growing fermentation industry in Florida.
Andrew MacIntosh has been a guest on 1 episode.
November 15th, 2021 | 44 mins 58 secs

Using the dissolved CO2 content of active fermentations to control your process.