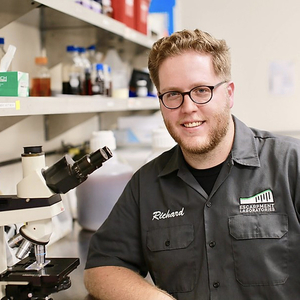 Richard Preiss
Special guest
Richard Preiss is an active brewing scientist and co-founder of Canada's Escarpment Laboratories, which is a supplier of liquid yeast cultures. Richard guides the company's R&D and laboratory activities. His research interests include Norwegian kveik yeasts, Brettanomyces yeasts, and souring bacteria, with the goal of helping brewers to continue to innovate in beer.
Richard Preiss has been a guest on 2 episodes.
January 6th, 2020 | 24 mins 55 secs

Our friends from Escarpment Labs (EP102) discuss the impact of inoculation rate on Norwegian kveik yeast fermentation.

August 27th, 2018 | 33 mins 9 secs

Richard Preiss discusses his work with genetically unique yeast used to produce Norwegian farmhouse beers known as kveik.