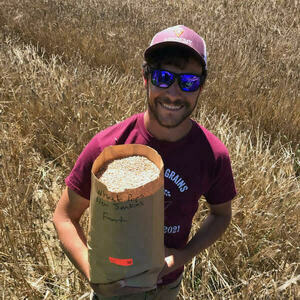 Nicholas Santantonio
Special guest
Nicholas Santantonio is the lead of the small grains breeding and genetics program at Virginia Tech. Our research focuses on integrating the latest genotyping and phenotyping technologies to accelerate genetic improvement for new and changing environments. The breeding program aims to develop high yielding, disease resistant barley cultivars adapted to the mid-Atlantic and southeastern US region and with qualities designed for malt, feed and food. Conversations with local craft maltsters and brewers in the mid-Atlantic region led our program, under the direction of the barley breeder, Mr. Wynse Brooks, to initiate development of two and six-row winter malt barley cultivars adapted to the East in 2010. We are currently expanding malting barley development through collaborations in the U.S and Europe. Our first malt barley variety, 'Avalon', was released a decade later in 2020, and is currently in initial stages of foundation seed multiplication, with certified seed expected to be available to farmers for the fall 2022 planting season. 'Avalon' was recently recommended for brewing by the American Malt barley association. The fully populated breeding pipeline is now able to deliver new malt barley seed products adapted to the Eastern US growing conditions on a regular basis.
Nicholas Santantonio has been a guest on 1 episode.
February 7th, 2022 | 1 hr 4 mins

An exciting, new 2-row winter variety coming out of Virginia Tech, the advantages winter barley brings to growers, maltsters, and brewers, the challenges ahead, and how you can get involved.