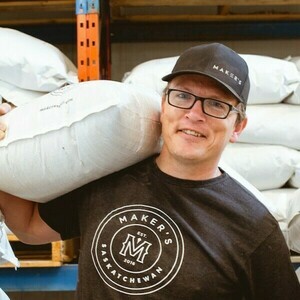 Matt Enns
Special guest
Matt Enns was born into a 3rd generation mixed farm in the Sask Valley near Rosthern, Saskatchewan. Often told by his father he was "just not a farmer", Matt attended post-secondary and was a Division 1 student/athlete at the University of Saskatchewan graduating in 2004. Now a recovering professional, Matt was a Physical Therapist for 12 years in the nearby city of Saskatoon, all the while retaining a connection to the farm working with Double E Grain, his Dad's grain operation. In 2010 Matt bought out a neighboring farm to join a small collective of 4 owner-operators and in 2014 let his Physio license go to become a full-time farmer. Matt found a niche on the farm leading the commodity marketing and secondary to a long-list of interesting factors, stumbled upon the idea of setting up Saskatchewan's first small-batch malting facility. In late 2017 Maker's Malt produced its first batch and since that time Matt has been immersed in the world of malting barley both commodity and craft. Matt is currently the chair of the Saskatchewan Barley development Commission and on numerous boards including the North American Craft Maltsters Guild, the Canadian Malting Barley Technical Center and the Brewing and Malting Barley Research Institute. Matt currently resides 3 blocks from the malt house alongside Katie and has an exciting household with three year-old twin boys and a newborn.
Matt Enns has been a guest on 1 episode.
October 25th, 2021 | 54 mins 50 secs

Are you prepared to face the most challenging barley crop most of us have ever seen?