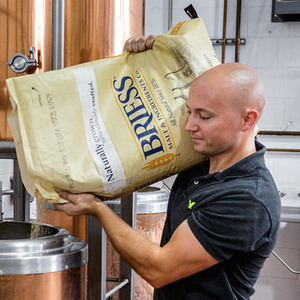 Jordon Geurts
Special guest
Jordon is a Technical Services Representative with Briess Malt & Ingredients. Prior to Briess, Jordon worked with the USDA in its Cereal Crops Research Unit as a Lab Technician in the Barley Malt Quality Lab in Madison, WI. In his role at the USDA he specialized in small batch and pilot malting. In his current role at Briess, he provides technical support services for quality assurance, quality control, and R&D projects. Jordon earned a Bachelor of Science Degree in Biology with an emphasis in Ecology and Organismal Biology from the University of Wisconsin – Oshkosh. He has completed courses in HAACP, continuous improvement, root cause analysis, and is certified by the Institute of Brewing and Distilling in cereal distillation.
Jordon Geurts has been a guest on 1 episode.
January 8th, 2018 | 20 mins 27 secs

Jordon Geurts joins us from Briess Malt & Ingredients to give us a behind-the-scenes look at product development for malted, naked oats, which can be used to enhance mouthfeel or to produce gluten free beers.