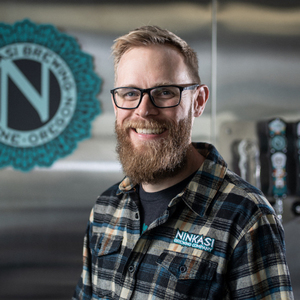 Daniel Sharp
Special guest
Dr. Sharp is the Director of Brewing Operations at Ninkasi Brewing Company in Eugene, OR. He began his brewing career in Quito, Ecuador at the Center of the World BrewPub in 2006 and began studying brewing science at Oregon State University in 2008. Dr. Sharp received his M.S. from Oregon State University Food Science Program under the guidance of Dr. Shellhammer focusing Harvest Maturity of Cascade and Willamette Hops. In 2012, Dr. Sharp received the Fonds-Baillet Latour Scholarship for Brewing Research to fund his PhD research in Dr. Shellhammer's lab at OSU investigating brewing factors that influence hop aroma in beer. Dr. Sharp has published papers in the MBAA TQ, Journal of the ASBC, BrewingScience, and JIBD as well as presented research findings at numerous professional conferences. After receiving his Ph.D. from OSU he joined the Ninkasi team in 2016 to apply his knowledge of hops and brewing science.
Daniel Sharp has been a guest on 3 episodes.
April 27th, 2020 | 26 mins 10 secs

Our friends from OSU join us to talk about a peer-reviewed paper comparing hop pellets, CO2 extracts, and spent hop material in kettle hop additions.

December 23rd, 2019 | 24 mins 24 secs

This week on the show, presenters from the Juicy Dry Hopping workshop in Calgary join us to talk about their quest to maximize flavor, aroma, and efficiency in heavily dry hopped beers.

October 14th, 2019 | 34 mins 27 secs

Dry hop geyser survivors talk about their experiences and how you can avoid repeating their dangerous mistakes.