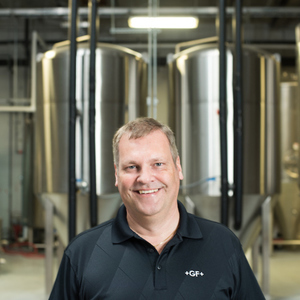 Dan Strömberg
Special guest
Dan Strömberg is a Market Segment Manager for Cooling & Refrigeration and Business Development Manager for GF Piping USA and he is working in the Food & Beverage, Air-condition and Data Center market to implement energy efficient and maintenance free plastic piping solutions for glycol and chilled water systems. After more than 30 years in the plastic piping industry in both Europe and America he has become an expert on piping solutions for the Industry. Dan has worked closely with the brewery market in USA since 2005 and he definitely knows the glycol piping system for breweries and the brewery process.
Dan has helped Breweries like Sierra Nevada, Dog Fish Head, Victory, Harpoon and several hundred other breweries with their glycol piping solution. He is also teaching about glycol piping on the Master Brewers Brewery Engineering and Utilities course.
Dan is very passionate about craft beer and he is also building a 1bbl pilot brewery in GF Piping systems headquarter in Irvine CA.
Dan graduated as an Electronics Engineer in Halmstad Sweden 1988.
Dan Strömberg has been a guest on 1 episode.
September 13th, 2021 | 38 mins 26 secs

Dan Stromberg discusses industry best practices for glycol system piping. You'll learn how to balance your system, how to size headers for correct flow rates & velocity, which pipe materials to consider, why the ubiquitous solenoid valve is a bad choice, and more.