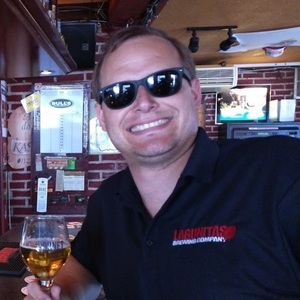 Bryan Donaldson
Special guest
Bryan Donaldson is the Brewing Innovation Manager at the Lagunitas Brewing Company in
Petaluma, CA and adjunct professor of brewing at Santa Rosa Junior College. He previously spent time as
the Sensory and Consumer Quality Manager. He has also worked as a quality technician at Lagunitas, as
well as a brewer for Sierra Nevada Brewing Company. He received his Master of Science degree in Food
Science and Technology at the University of California, Davis, where he researched hop aroma and
completed a brewing internship at Anheuser-Busch. Prior to that he studied biochemistry at Santa Clara
University. Bryan enjoys traveling, SCUBA diving and camping with his wife and their dogs.
Bryan Donaldson has been a guest on 1 episode.
April 16th, 2018 | 45 mins 13 secs

As recently reported in Nature Communications, Charles Denby used CRISPR-Cas9 to successfully engineer brewers yeast to produce linalool and geraniol. We interview both Charles and Bryan Donaldson (Lagunitas) who oversaw the sensory analysis for this...