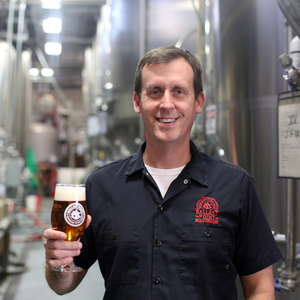 Aaron Justus
Special guest
Aaron Justus was born and raised in Kansas City. He attended the University of Kansas and received a BS in Atmospheric Science. After graduation, Aaron worked in television for nearly thirteen years as a meteorologist. During this time, he was an avid homebrewer and eventually decided to change careers. He packed his bags and moved to San Diego to pursue a career in brewing. Aaron started at Ballast Point in summer of 2011. He worked as a keg washer and quickly ascended the ranks to brewer, specialty brewer, and Director of Brewing. Currently he is the Director of R&D and Specialty Brewing. Aaron also teaches the Raw Materials class for the UCSD Brewing Certificate Program. Aaron is a graduate of the American Brewers Guild and has passed the IBD Diploma in Brewing.
Aaron Justus has been a guest on 2 episodes.
March 29th, 2021 | 28 mins 5 secs

Aaron Justus from Ballast Point discusses targeting sulfate to chloride ratios to enhance hop & malt character. This research, which informed recipe development for gold medal winner Manta Ray, was presented during the 2017 Master Brewers Conference.

March 11th, 2019 | 33 mins 17 secs

Aaron Justus is back to lead us on an awesome journey tracking IBUs throughout the brewing process. This episode is full of surprises, and I guarantee you're going to learn something.